Registration of charitable organization in Ukraine
Registration of charitable organization in Ukraine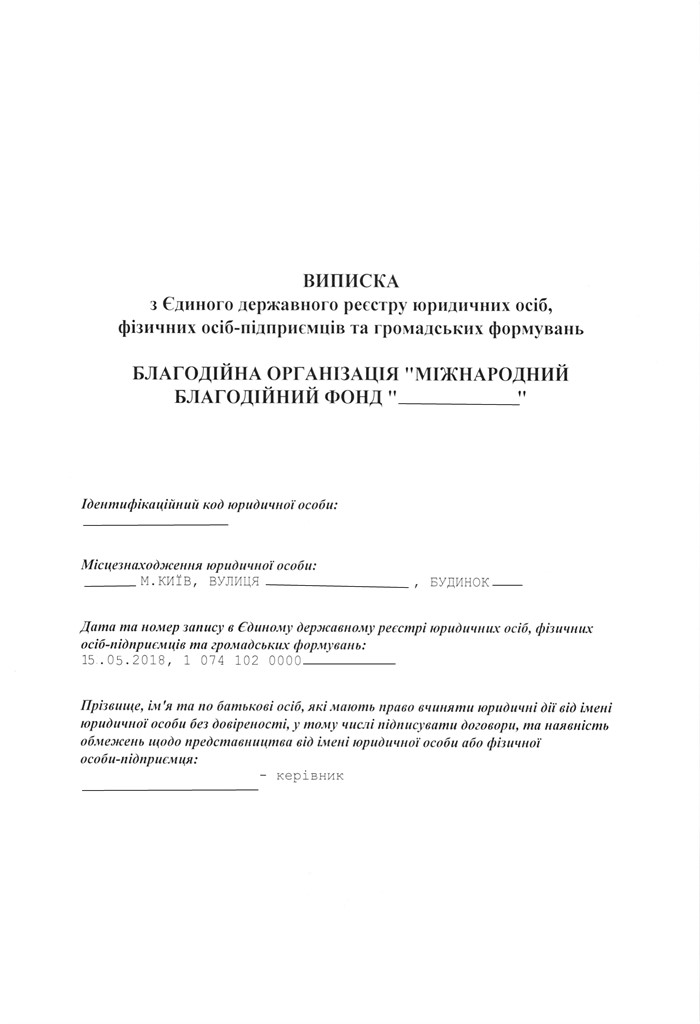 What we do
Consultations via email, telephone, Skype about all the issues which a client can have during establishment of a charitable organization in Ukraine;

Drafting of charter, protocol (minutes) on establishment of organization and other necessary documents;

Representing of client's interests before the registration department of state administrations, submitting documents to and getting documents from the state authorities;

Get a corporate seal (signet, stamp) of organization in accordance with client's specifications;

Registration of a charitable organization as a non-profit organization in Ukraine which grants the right to pay income tax at the rate of 0% (provided that there is no commercial activity and income generation by the organization).
OUR FEES
Terms of registration of a charitable organization in Ukraine

Our company has a positive experience of charitable organizations registration in Ukraine since 2006. We have accumulated a variety of drafts such as charters, protocols and other documents, which do not result in their rejection by the registration authorities. This is what enables us to create a charitable foundation within a short term.


Our experience allows us to offer clients registration of charitable foundation within 2 – 3 days beginning from the date when we sign documents.


In practice we register a charity within 2 days. After it we launch the procedure of charitable organization registration in the register of non-profit organizations which takes 10 more days.


Today, deadlines may change somewhat, due to the imposition of quarantines and disruptions in the work of government agencies. But our lawyers will advise you on how and when it is best to submit your documents, whether it can be done online, and will arrange notary assistance in advance.



WHY CHOOSE US
Ready-made legal address

We can provide a ready-made legal address for your charity, as well as provide postal services.

Huge experience in registering charitable foundations

We have been working in the legal services market of Ukraine for over 13 years. And during all this time we have been engaged in registration of charitable foundations and other types of organizations.
ANY QUESTIONS LEFT?
Our lawyers will advise you!
Ask a lawyer
Required documents
Photocopies of passports and ident. codes of founders, the manager

Legal entity registration document or EDRPOU code
Documents for registration of a charitable organization

Charter and protocol (minutes) on establishment of charitable foundation are drafted by our lawyers based on standard drafts.


In order to initiate the registration procedures a client has to provide us with the following documents and information:
Information about founding individuals (when founded by individuals)/charter documents (when founded by legal entities);

Description of future foundation (name, address, goals and tasks);

Information about management bodies and individuals who are to become their members.
While working with our Clients, we prepare draft documents taking into account their wishes and plans for the organization. Thus, personal drafting of statutory documents makes it possible to develop the structure of the organization according to the requirements of its founders, as well as in such a way as to comply with the goals and mission of the organization.



REFERENCES FROM OUR CLIENTS
Important to know
Registration of a charitable foundation or organization: why us?

The absolute majority of charitable organizations are created exactly in the form of a charitable foundation. In the process of creating an organization, at the very beginning you will already know its purpose and mission, and we - the optimal order of the procedure, convenient for you.


The main advantages that our company offers:
Finding a solution rather than mindlessly completing a task means that your end goal matters to us. We will choose exactly the embodiment that will help to achieve a positive result;

Personal development of documents - this is what will give you the opportunity to protect your interests from the very beginning, and get the organization with a comfortable structure and management scheme;

All in one place - our team includes lawyers from a wide variety of legal areas, which means that by turning to us, you no longer have to look for other contractors to handle legal matters. We help even with the need to register foreign volunteers, with the organization's accounting, etc.

If you want to register a charitable organization in Ukraine simply and quickly - call us! We will provide you with all the necessary information and help you prepare all the required documents.



SWIFT OBTAINMENT
AND BEST QUALITY PROVEN BY YEARS OF PRACTICE!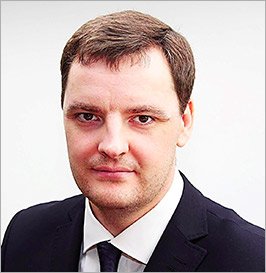 Volodymyr Gurlov, Managing partner