Company registration in Ukraine
Company registration in Ukraine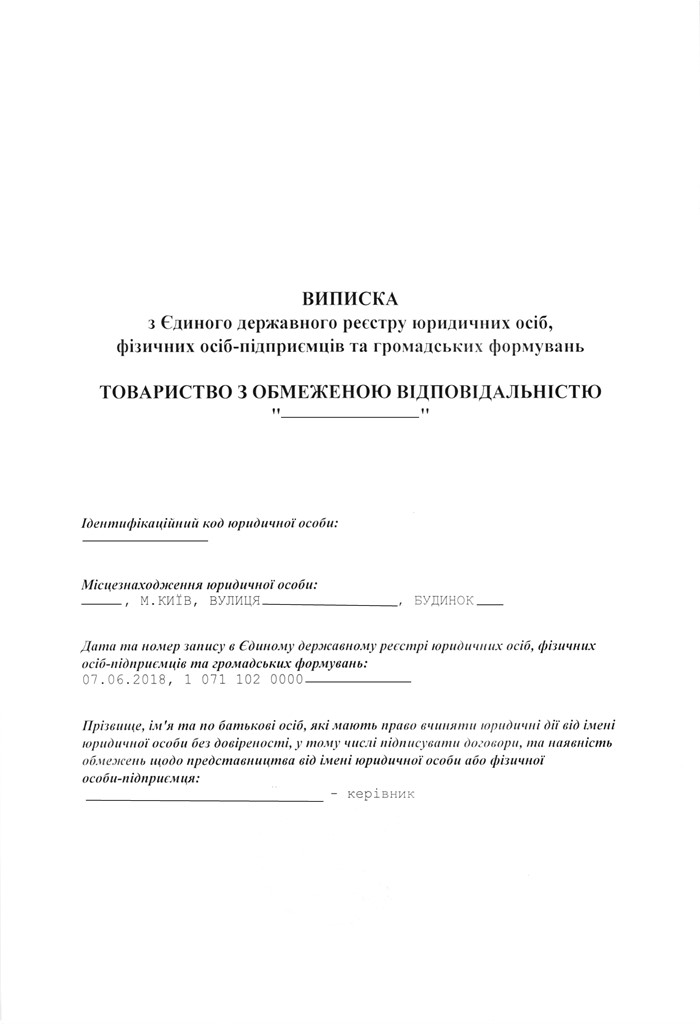 What we do
provide legal advices on the matters of optimal structure of corporate rights in the LLC;

provide draft of minutes (protocol) of the parent company by means of which the company makes the decision about LLC establishment in Ukraine, draft of power of attorney from the parent company for its representative;

draft bilingual corporate charter (articles of incorporation) of the company (in Ukrainian and English);

draft all other required documents and organize communication with governmental authorities in order to register company within the shortest possible term;

provide additional services – nominal address and nominal manager (director, CEO);

advise on the matters of employment of foreigners and temporary residence permits for them.
OUR FEES

Cost for LLC's registration
from 600 USD
Terms and cost of the company registration in Kyiv
We register LLC within 3 business days without any delays.


This service is our firm's standard procedure, the final cost of which depends on nominal services chosen by a Client - for example, if you need the services of a nominee director for a specified period.


Cost of our services related to registration of limited liability company in Ukraine is agreed upon with each Client separately and depends on the complexity of documents drafting, amount of required preliminary legal advice and nominal services.


The price mostly depends on the complexity of the project, as well as the need for the lawyer to provide additional advice. For example, concerning tax optimization of business in Ukraine, or solution of migration issues for the owner of the business.



Successfully rendered services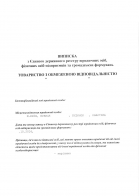 Registered a company in October of 2016
Provided legal services of incorporation in Ukraine for an investor from European Union. The legal entity was established in the form of limited liability company with the registration address in Kiev. Specialization: IT, software development, telecom. Scanned copy of registration certificate.
WHY CHOOSE US
We can provide our CEO (Head of the office)

At the moment of registration it is commonly better to set a Ukrainian citizen as the CEO. We can provide You with such person that can be replaced as soon as all procedures will be finished.

Nominal legal address for the registration

If You don't have an address or have no intention on having the office at all - we can provide You with the nominal address for the registration and provide it with further postal services.
Required documents for company registration in Ukraine
Copy of ITIN certificate

Copies of establishers passport

Power of attorney
Registration of a company in Ukraine by foreign individuals or legal entities
Individuals who want to found LLC have to provide:
copy of Ukrainian ITIN certificate (if a person does not have one, our lawyers will help to get it);

two notarized copies of passports certified by means of apostille;

power of attorney for employees of our firm which includes power to perform all actions related to registration of the LLC.

If a foreign legal entity becomes a party to a company in Ukraine, it must provide:
notarized copy of extract from trade, court or any other register which proves registration of the legal entity and is certified by means of apostille;

notarized copies of Protocol of board of managers by which the board makes decision about foundation of the LLC in Ukraine and register of members of the board (drafts of the documents will be provided by our lawyers);

power of attorney for employees of our firm which includes power to perform all actions related to registration of the LLC.
REFERENCES FROM OUR CLIENTS
General director Skibinskiy V., Yokogawa Electric Ukraine Ltd.
Yokogawa Electric Ukraine Ltd. recommends Vladimir Gurlov and his team of lawyers as a reliable legal partner and advisor for foreign businesses in Ukraine......
More information
Important to know
How to register a company in Ukraine for a foreigner?

Limited liability company is the most popular option for doing business in Ukraine. The founder can be a person or a legal entity, as well as a combination of legal entities and individuals. The maximum number of participants is not limited, and the minimum is 1 participant.


Formation of LLC in Ukraine serves as a good ground for obtaining a temporary residence permit for its foreign founders. The permit is issued for the period of up to three years.


When searching information about companies that are already registered in Ukraine, you can have free access to the official state register online.


The register allows you to find a company either by its name or registration number as well as provides information about its legal address in Ukraine, current director (CEO), list of founders and their shares in charter capital etc. For example, the register contains information about bankruptcy procedures initiated regarding certain legal entities.


Information from the official state register may be useful for official correspondence with Ukrainian firms since sending formal letters (including complaints) to the legal address specified in the register is recognized as due by all authorities in Ukraine, including judicial bodies.


At the same time the actual location of the company's office is not that relevant.


We offer you not only the registration of the company, but the selection of the best option for the solution of your issue. Thus, the registration of LLC can be chosen, for example, for conducting business in Ukraine, or to solve the issue with the relocation to Ukraine (obtaining a residence permit through the opening of a company).


In any of these cases, the registration of the company - only one of the steps to achieve the goal. We will offer you full support and a solution to your problem. All in one place, with a professional English-speaking lawyer in Kyiv.


When facing difficulties using the register (it is in Ukrainian) you can contact our lawyers who will provide all the necessary assistance to clients of our law firm.
FAQ
No. No restrictions on the matter.
Yes. Person in Ukraine can be a head of several companies.